Prostaff CC Water Gold Premier 160 ml
Prostaff CC Water Gold Premier 160 ml
The more we use it, the more we love its shine.
"CC Water Gold Premier" is the best quality spray coating ProStaff has ever produced. It is the culmination of 40 years of research, a product of excellence and pride. High-adhesive gloss ingredients ensure long-lasting shine and a high-quality finish that continues to shine.
The luxurious formula provides a breathtaking shine, and the newly developed GHA* ingredient penetrates into the gaps between the coatings and strengthens the quality of their bonds. The highest concentration ProStaff formula provides long-lasting shine and water repellency immediately after application. In addition, a glass-based polishing ingredient imparts a moist, deep shine and smooth texture. The preparation can also be used on wheels, headlights, unpainted resin elements, etc., giving them a shiny gloss that distinguishes them from the environment.
* Glossy High Adhesion / Glossy ingredient with high adhesion
The innovative version of our product, thanks to the fixation of the coating component, shows excellent water resistance, thanks to which water drops flow down the car body. Dirt washes off easily even on rainy days and a beautiful finish is always guaranteed.
A very durable coating that retains its beauty
The "Premier" preparation is a response to the wishes of customers who would like their car body to maintain a beautiful gloss. The GHA ingredient and the glass-based nanocolloid bond automatically to the painted surface, creating a perfectly balanced blend containing a durable resin. The result is a beautiful gloss that lasts even after rain or a car wash, which was not possible with conventional waxing or spray coating.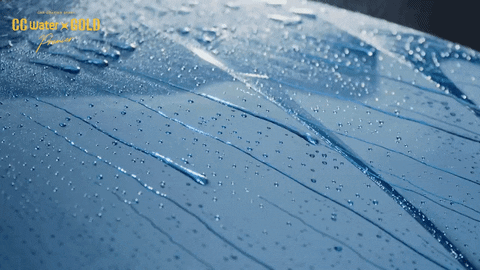 The highest quality coating ensures smooth and easy distribution of the product.
Satisfaction beyond "CC Water Gold"
Prostaff's popular "CC Water Gold" achieves a high level of gloss and water resistance, however "CC Water Gold Premier" contains an even more effective formula in terms of gloss, durability and water repellency, all while maintaining the original form of application. In addition, the double-sided cloth included with the preparation has ultra-fine fibers commonly used in glasses wipes. They allow for a quick and smooth finish without wiping residue. It is an ideal solution for those who are interested in getting better results.
Product evolution process
Due to the density of the gloss component in the conventional 'Premier' version, the finish depended on the skill of the coater. Thanks to the introduction of a new formula, the preparation has become easier to use. Today, anyone can easily achieve a beautiful finish while maintaining a deep gloss.
Valuable time spent on beautifying the vehicle with your own hands
Important time spent together with your beloved car
Thanks to the application of the product, the car will gain even more in the eyes of the owner. "CC Water Gold Premier" will enable us to beautify the car in the shortest possible time. We cordially encourage you to take advantage of the opportunity to take care of your car with "CC Water Gold Premier".